Voice 1
Welcome to Spotlight. I'm Bruce Gulland.
Voice 2
And I'm Liz Waid. Spotlight uses a special English method of broadcasting. It is easier for people to understand no matter where in the world they live.
Voice 1
Listen for a moment to the sounds around you. What do you hear? If you live near a busy street maybe it sounds like this:
Voice 2
But even in areas far away from busy streets, there can still be a lot of noise. Sometimes this noise can wake you from sleep at night. Other times noise may make it difficult to talk to a friend. This kind of noise is often called noise pollution. It is noise that damages the balance of normal life for people and animals. It can even cause health problems. Today's Spotlight is on noise pollution.
Voice 1
A lot of noise pollution is caused by transportation. Cars, trucks, trains, and airplanes can all be very loud. And in many cities around the world, people's homes are very close to these transportation systems. But even things like building tools and music can be noise pollution. It is all around us.
Voice 2
Noise pollution can be a big problem in developing countries. Growing cities and towns are not planned to reduce noise. Many homes and businesses are built next to busy roads. Traffic grows and with it the noise grows.
Voice 1
Researchers have studied the effects of noise in our lives. They have found that it can do more than just take our attention. Noise also harms our health. Most people know that loud noise can permanently damage our ears. But when a person experiences high levels of noise, his heart beats faster. His blood pressure gets higher. Noise can even change the balance of chemicals in a person's body.
Voice 2
Noise can also affect the way a person sleeps at night. A good night of sleep happens when a person is asleep for a long period of time. This is often called "deep sleep." But when there is too much noise at night, a person cannot get this deep sleep. Studies show that lack of sleep is connected to many different health problems. If a person is always tired, her body is not as strong. She is not able to fight sickness easily. She may also have a difficult time concentrating on work during the day.
Voice 1
In the 1970s, researchers in New York City studied the effects of noise on a school. The school was near noisy train tracks. Some of the rooms of the school faced the train tracks. Other rooms were far from the train. The researchers tested children over six years. The children on the noisy side of the school had lower reading scores than the children on the quiet side of the school. The city made the train tracks quieter. And the school built special walls near the tracks to lessen the sound. After this, reading scores improved.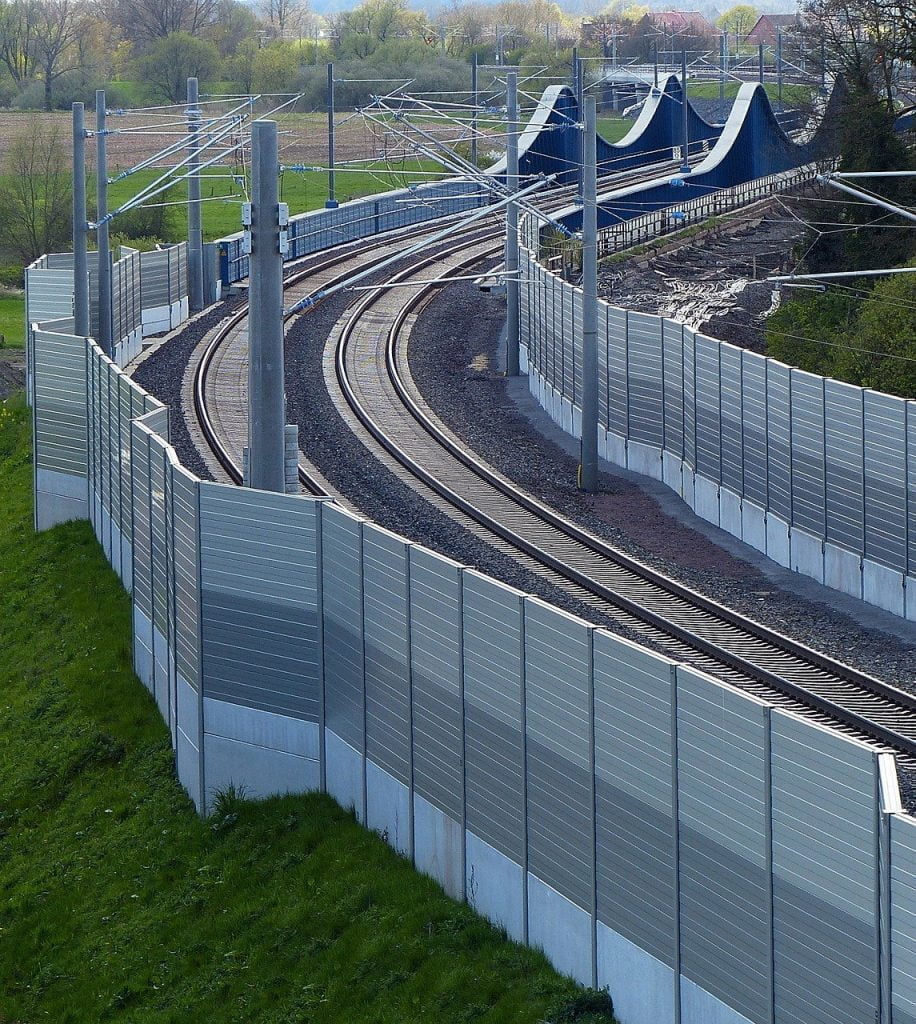 Voice 2
But noise does not just affect humans. Studies show that noise pollution can affect when birds build their nests. Cows feed less and produce less milk when it is noisy. Some studies even show that the growth of some plants can be affected by noise. This is because the noise affects the behavior of the animals around the plants.
Voice 1
Louis Hagler is a doctor in California. He fights for quiet in cities. He believes that cities should treat noise pollution like any other dangerous pollution. He told the Washington Post,
Voice 3
"We do not say to people 'you just have to learn to live with waste in your water.' Why should we have to live with waste in our ears?"
Voice 2
But for many people, the problem of noise is not just about a healthy body. It is also about a healthy, peaceful, mind. For many people, quiet is connected to peace.
Voice 1
In some religions, holy men and women have special times of silence. Some of these people make a promise not to speak for a period of time. This can be very difficult. But these men and women see their silence as a way to control themselves and honor God.
Voice 2
All around the world people make their voices quiet to respect others. People are quiet in cemeteries, where people bury the dead. They are quiet in museums where people learn about art or history. They are quiet in libraries where people read books. People also use silence as a way to honor people who have died. Often, at special events or celebrations, people will have a moment of silence. This is a short time when large groups of people quiet their voices to remember the dead. Quiet and silence is special. It is important.
Voice 1
But finding quiet places in a busy world can be difficult. Noise is all around, and sometimes you cannot avoid it. But you can reduce noise in your life. Here are some ways to get rid of noise in your life.
Voice 4
Turn off any electrical devices you are not using. These devices can create a low level of noise, even when someone is not using them.
Voice 3
If you have to raise your voice when you are talking to someone, something is wrong. Look for what is creating noise around you and what you can do to control it.
Voice 4
Play music at a level that only you can hear, or only inside.
Voice 3
You can reduce noise coming into and going out of your home by planting tall plants around your home. These plants can block some of the noise that you create.
Voice 4
You can also reduce noise inside your home. Hang blankets or fabric on your walls. Put soft rugs or carpet on your floors. These things will help stop noise from reflecting off hard surfaces.
Voice 3
Instead of driving a car or riding a motorbike, ride a bicycle instead. This will reduce noise on the roads.
Voice 4
And finally, value the quiet places you do know. If you have children, take them to quiet areas and let them listen. Teach them to value quiet in their lives. Make sure to include time for quiet in your own life.
Voice 2
How do you escape noise and find quiet? Is there a lot of noise pollution by where you live? Tell us what you think. You can leave a comment on our website. Or email us at contact@spotlightenglish.com. You can also find us on Facebook, YouTube, and Twitter.
Voice 1
The writer of this program was Joshua Leo. The producer was Michio Ozaki. The voices you heard were from the United Kingdom and the United States. All quotes were adapted for this program and voiced by Spotlight. You can listen to this program again, and read it, on the internet at www.spotlightenglish.com. This program is called "Taking Noise Out of Your Life"
Voice 2
Visit our website to download our free official app for Android and Apple devices. We hope you can join us again for the next Spotlight program. Goodbye!
Question:
How does noise affect your life? Are you able to find times of quiet?
WATCH:
LISTEN: